Bolted Cement Silo Solution
Cement silo is suitable for storing bulk materials such as grains, cement, powder and fly ash. Material level system is installed in the tanks, which can show the position and quantity of the materials. The hole device can clear up hard materials from long sediment. The materials can be sent to all the positions with the combination of cement bin and screw conveyer pump. Easy installation with its characteristics of safety and reliability makes it an ideal cement bin for the concrete mixing plant.
Manufactured Technology of Cement Silo
The parts of the cement silos are manufactured by special laser cutting and drilling technologies and they are implemented special surface cleaning procedure. The parts of the cement silos also are manufactured in sensitive production facilities with special equipments and they are painted with prime coating and final coating. The parts which are hung on automatic conveyor line , are painted in special painting cabinets. Then the parts of the cement silos are packed specially suitable for transportation.
Advantages of Cement Silo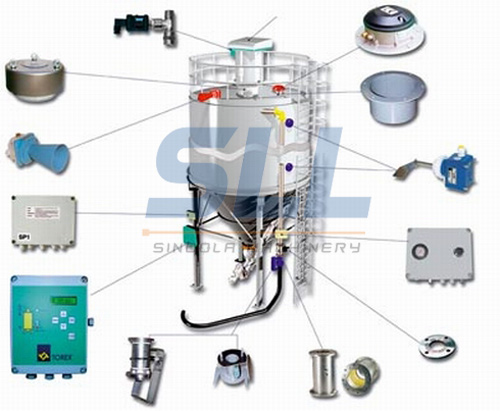 Advantages of Cement Silo With different capacities:50T,100T,150T,200T,300T etc. Customized sizing and layout to specific requirement Sub-structure, easy transportation, installation fast, level display, with positive and negative regulator,Green filter Put in bulk powder (cement or fly ash), waterproof and moisture, easy to use and reduce costs , the top of cement silo with green filter, used to reduce dust leakage. Equipped with a safety valve at the top of cement silo, cement silo used to balance the pressure difference between inside and outside. Upper and lower parts of the cement silo is equipped with display materials, can monitor the number of cement materials warehouse. With gas in the lower part of broken cement storage devices, to ensure smooth unloading. Cement bin is cylinder and supporting structure. The superior part has dust removing device to avoid leakage of dust; and the inferior part is equipped with arch breaker to avoid powder caking and make discharging smooth, and bin level sensing device to master usage of material in the bin at any time. Cement bin generally adopts bulk cement conveying truck to send powder in the bin by pneumatic conveying; according different structures of cement bin, there are two kinds of discharging: the first is the inferior part is connected with screw conveyer and screw conveyer send powders into powder measure; the second is to adopt pneumatic conveying (to special cement bin).