Full Automatic Dry mortar plant solution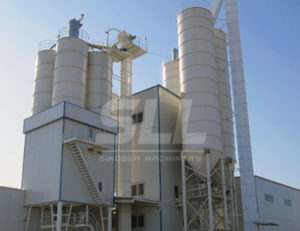 Full automatic dry mortar plant
Full automatic dry motar product line is applied to mass production,for ordinary and special dry mortar .It can produce variety kinds of products and have high efficency ,which capacity can reach to 200T/h.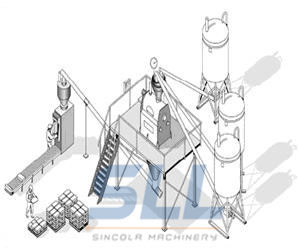 1.Dry mortar mixing plant manufacturers can meet different performance requirements of the dry mortar products production needs, such as binding mortar, plaster mortar, such as thermal insulation system of the bonding mortar required mortar, and other special mortar.
2.Dry mortar mixing plant manufacturers is suitable for : mortar putty powder , cement powder , spice powder ,animal feed , chemical , food and feed refractory material and other area , can be made of stainless steel Working principle Of Dry Mortar Mixing Plant .
The material inside the rotor by two opposite effects, for a compound movement driven by blades of materials along the inner wall of slot machines for counter-clockwise, turning left and right hand drive material , in the shape of two overlapping rotor weight loss area,in this region, regardless of the shape of the material, size, and density how can make the material floating in a moment of weightlessness, which makes the material in the slot machine to form a continuous cycle of turning round cross-cutting shear, gentle mixing so as to achieve rapid results.
Full automatic dry mortar plant can manufacture the following various mortars:
1) masonry mortar
2) Thin and smooth wall mortar
3) Hand-plastering screeding mortar
4) Color coating mortar
5) Water-proof mortar
6) Plaster powder
7) Wall plastering mortar
8) Ceramic tile adhesive mortar
9) Self-leveling mortar
10) Heat-preservation mortar.
Dry mortar mixing plant process flow and equipment
Dry mortar (also known as dry mortar) is a kind of by the advanced production equipment, microcomputer control automatic dry mortar mixing plant (tower) by sand pre-treatment (including drying, screening), metering, mixing ingredients, storage packaging or bulk factory production of "dry mixing type" ready-mixed mortar goods. Due to the ratio of weighing in the process of production strictly, and according to the different function of slurry to join the corresponding chemical additives, greatly improving the quality of the mortar. Dry mortar application to avoid the artificial preparation of quality defects, to ensure the construction quality, while reducing the city garbage and pollution of the environment, improve the degree of civilization construction, is a kind of has a broad market prospect of new green environmental protection building materials.