25TPH Semi dry mortar plant solution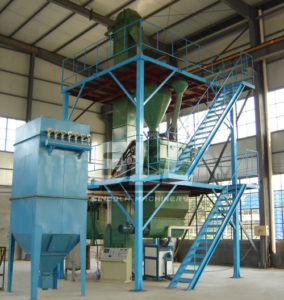 15TPH Semi type dry motar production line is applied to mass production,for ordinary and special dry mortar .semi dry mortar machine can produce variety kinds of products and have high efficency ,which capacity can reach to 50T/h.
includes Mixing machine, Drying system, Screening system, Measuring system, Bulk and Packing system, Dedusting system, Electrical system and Spot agitation tank. dry mortar mixing factory is based on the latest design concept in Europe, this production adopts the advanced computer auto-control system, whose production capacity can reach 30-100 thousand tons per year depend on the system configuration. The production line consists of storage system, metering and batching system, conveying system, mixing system, air compressor system , packaging system, and dedusting system, etc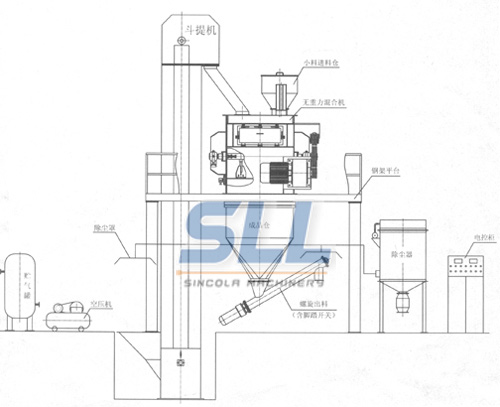 1. Storage silo(carbon steel or stainless steel) mode: raw material silo, mid-silo, finish product silo.
The raw material in the big silo can meet many batch , the amount of silo is decided by your requirement .
2. Conveyor (carbon steel or stainless steel) modes: pneumatic conveyor, vacuum conveyor, bucket elevator, pump truck, belt conveyor, manual feeder.
3. Batching / dosing equipment modes (carbon steel or stainless steel): weighing hopper, pneumatic conveying & weighing pot.
4. Mixer / agitator (carbon steel or stainless steel) : double-shaft paddle mixer, helix mixer (ribbon type mixer), coulter mixer, reactor, conical mixer.
5. Packaging equipment (carbon steel or stainless steel): ton-bag (jumbo bag) packaging machine, valve-bag packaging machine, open bag packaging machine (granular or powdery material).
6. Control system: touch screen (siemens, Mitsubishi, etc.) + PLC.
Semi-automatic Dry mortar mixing Advantage:
Advanced design concept, with high production efficiency.
High configuration and low failure rate.
With special fault self-diagnosis system.
High intelligent and modular design, with easy and quick installation.
High efficiency dust collecting system, energy conservation and environmental protection.